When selecting the ideal type of pillow the thickness of the pillow is king…and the right size for you is dependent upon your size and the softness or hardness of your bed. The softer the mattress (or pillow top) the more your shoulders will sink into the mattress so you will need a thinner pillow. For a harder mattress, you will need a thicker pillow because your shoulders won't sink down as much. That is why you need to get an adjustable pillow that you can adjust to suit your own mattress. I recommend the Posture Form Contour Cure Adjustable Memory Foam Pillow.
We choose to have them available at Be Healthy Chiropractic because they can be adjusted to 4 different thicknesses to cater for most body types and mattresses and they are contoured to hold your neck and head in a balanced alignment while you sleep on your side.
STEP 1) Determine If An Adjustable Memory Foam Pillow For You
Before you try this pillow you need to first decide if you need to have a pillow like this because not everyone needs a pillow like this…
If you sleep on your stomach (which is the ideal sleeping posture) you do not need this type of pillow. Any type of pillow is suitable for you. As a matter of fact, you don't even need to have a pillow if you sleep on your stomach. You just choose whatever you like for comfort.
If you sleep on your back you should stop it straight away as sleeping on your back is the worst for lowering your blood oxygenation and should be avoided. If, despite my warnings, you still choose to sleep on your back, do not use this pillow or any type of contoured pillow.
If you sleep on your side or you sleep in all sorts of positions, then this pillow is for you.
STEP 2) Choose the ideal degree of firmness in the pillow 
If you are of a heavier build and like the pillow to have a sturdier/harder feeling of support then choose the "charcoal firmer feel" pillow
If you are of a slighter build choose the "regular feel" pillow.  Probably 3 out of 4 find the regular feel the most appropriate for them.
STEP 3) Take Your Adjustable Pillow Home and Discover The Ideal Thickness to Use
a) Take a Selfie in Bed
Take the pillow out of its carry bag, grab your mobile phone and lie on your bed on your side in your typical sleeping posture.
Staying in your normal sleeping posture take a "selfie".
Your selfie photo will help you determine if the pillow is the right thickness for you.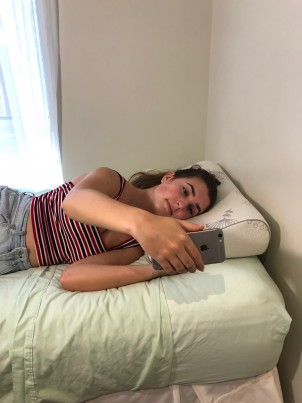 b) Analysing Your Selfie
You need to look at two different landmarks on your body. The notch just underneath your nose (where Charlie Chaplin's moustache was) called the philtrum and the notch above the top of your sternum where your collarbones join your sternum called the suprasternal notch.
If the philtrum is lying higher than the suprasternal notch then your pillow is too high.
If the philtrum is lying lower than the suprasternal notch then your pillow is too low.
If these two landmarks are level in the selfie then your pillow thickness is just right for you in your bed.
c) Adjust the Pillow Size Until the Two "Notches" Are Level
The two contours of the pillow are of slightly different thicknesses so use whatever size contour that holds you level.
You also have the option to undo the zip at the bottom of the pillow to take out the 2cm removable layer if you have a slighter frame or a softer bed. Ultimately that gives you 4 different thickness of pillow to try out which caters for most types of beds and body shapes.
If you have any concerns feel free to discuss with the team at Be Healthy Chiropractic